There should be a time for you to challenge yourself by doing something different or by realizing the things you once dreamed of doing. For that reason, I decided to take part in Hiking Ceria held by IKA SADAYA in cooperation with District One on May 22, 2016. As for an amateur like me, along with some other 'green' hikers, the idea of hiking for 6 hours to get to the destination was like a horror. It would be too much for me and I didn't want to be a burden for anyone during the trip. Thank God the tour leader could read our pessimism and offered a shorter track that can be reached for about 3-4 hours. We gathered at Tree Top Cikole at 8 a.m. but started our journey at 10 a.m. (well.. It's quite common in Indonesia hehe).
We went through a beautiful forest where we could find rubber-bearing trees and coffee plants. The flat paths promised bearable journey at our first steps, but the ascending and descending ones greeted us one by one to challenge our stamina; we even needed a rope to climb down some descending paths. The day before, it had been rainy so the ground was a bit wet and slippery -I slid and landed on my b**t; some hikers too. Ro**, my crazy buddy, slid and 'rolled over' then successfully tore her leggings, on the left calf, not on the 'dangerous' part.. so wipe your drool! Hahaha.. #unfortunately, I didn't witness her gymnastic movement and took the historic image 3-|.
After about two hours, we got into a bamboo forest, and here, I got a gross incident: I accidentally grabbed a big rotten bamboo filled with stinky water and spilled the water onto my hands. Gosh.. It smelled exactly like s**t. The crowd behind me got a bit noisy as they smelled the 'familiar' aroma while I was struggling to dry and get rid of the aroma with some scented wet tissue.
When we finally arrived at Kampung Senyum (the Smiling Village), it was around 1:30 p.m. So, it took about 3.5 hours to get there. We were welcomed by the beauty of Curug Cibarebeuy, hot sweet tea, kopi lahang, and some fries at saung pak Rosid.
The friendly pak Rosid even entertained us with his voice and a bamboo musical instrument that produces 4 different sounds after we had our delicious late lunch: nasi liwet, sambal lalap, tofu tempe, salted fish and kerupuk (crackers). Yummy..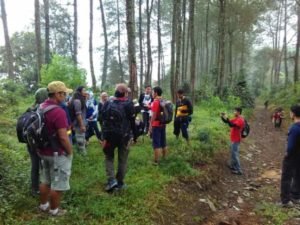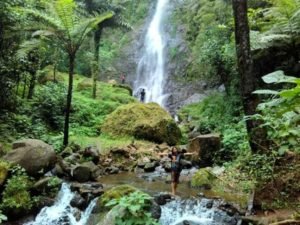 After playing around at the fresh and clear waterfall, at 4:20 p.m. We left Kampung Senyum by taking a different route to get to the public transportation that would take us back to Tree Top Cikole, our meeting point. The rice fields were the route we had to go through.
It was estimated that we reached the destination in about one hour, but turned out to be within 2 and 3 hours (we were separated into two groups of different pace). In the last few meters, the slow hikers, including me, had to continue our journey in the dark, with the help of flashlights, under the rain. What a journey!
All in all, this experience has given us the opportunity to meet and share joy and laughter with the seniors and juniors of our beloved almamater, thus, will always be one of the best moments in our lives. When having a reunion at the mall or alike is too mainstream, why don't we put on our casual clothes and grab our backpacks to meet up with good people in the best place God has created for us, the nature.
Writer : Novi Khrisna, hiking enthusiast